For a long time, I resisted adding blinds to these breakfast nook windows for fear of taking away from the view outside. Problem is, the sun comes up right in those windows and hits us all in the eyes every single morning. I found myself scooting my lamps around on the end tables and crouching down behind them to avoid the blaring rays. Another problem I was having was that the outer windows are so narrow that I could not find blinds that would fit inside mount. Until one day, my online shopping problem brought me to a possible solution.
I will make my own.
Errr. I mean, I'll tell Dad my bright idea and hope he'll help me. So, I ran across some wood bamboo blinds and I had the bright idea that I could potentially cut them to size. It's wood. How hard can that be? (Says the girl who wont be doing the cutting.) And they were so inexpensive that if it didn't work, not much would be lost.
It worked!
Dad said he rolled the blinds up tightly and used painters tape to hold them in place. Then he used a band saw and a fine cutting saw blade. And in his words "this was a pain in the yang-yang." BUT IT WORKED. Now, we order 3 more for him to cut. (insert laughing emoji. My poor Dad.) Thankfully, the larger windows didn't require any cutting. You can find those here.
If you missed my blog post on how we made these benches very quickly & affordably, you can find that here. A lot of my pillows were found at Marshalls, but I did find these & these online. Most of my sailboats I made or found at thrift stores. I love how they look up on the window ledge overlooking the lake.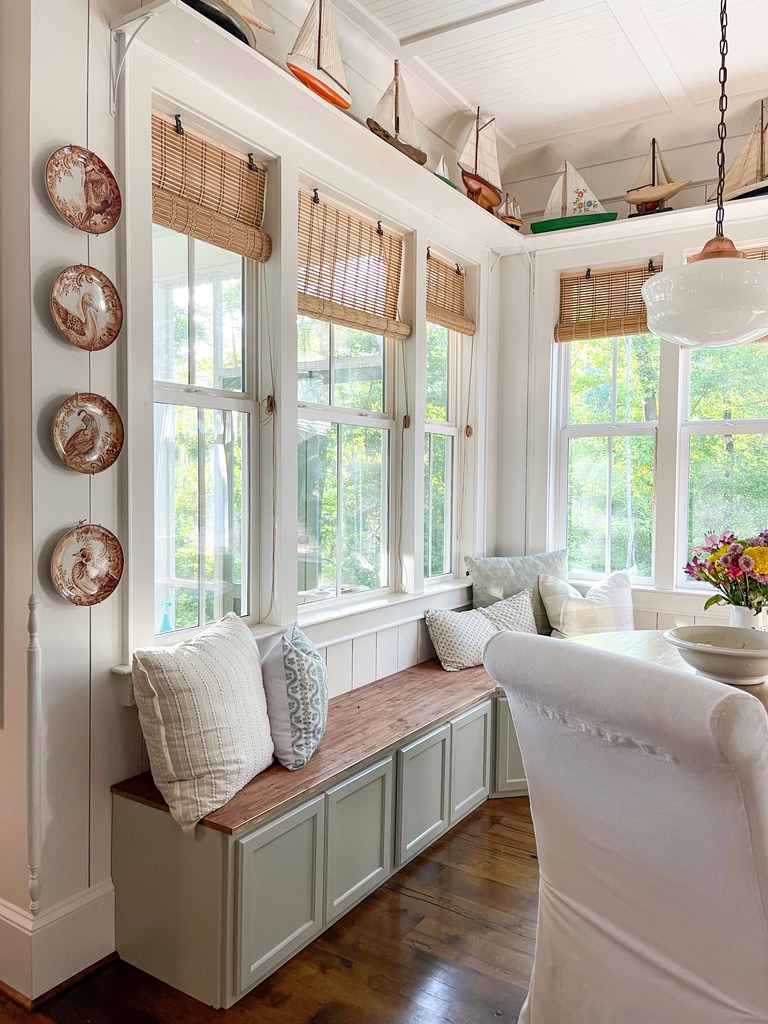 This is exactly what this space needed.
They do not interfere with the view at all. They allow for sun blockage in the mornings and are absolutely perfect. So, much warmth and visual interest. Why did I wait to do this? These were super easy to install, literally took me 20 minutes to hang them all myself. I would say these wouldn't be the best for total privacy if thats what you need. You can make out shadows behind them when closed. This breakfast nook has always been a favorite room of mine, but I am just loving the new changes. The only thing left to do is find a seat cushion for the benches. So cozy!
Other sources to note:
Similar pendant light (mine is an antique find)
XOXO,
Brittany